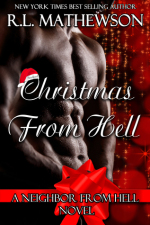 | GOODREADS | AMAZON | MY RATING: ♥ ♥ ♥ ♥ ♥ |
Goodreads synopsis: Duncan Bradford is used to putting other people first even the annoying little jinx that lives next door, but when the unexpected happens and he starts to see her in a whole new light, he decides that it's time that he acts more like a Bradford and takes what he wants.

My thoughts: Sometimes I feel for an easy read. A book that is funny, easy and a little predictable. A book you just read for the happiness of it. A book that makes your mind rest for a bit. I often feel to read this kind of books after I have read something big or boring, difficult or just not that pleasing mentally. Many would say that these books are simple and not real literature. But to make me laugh or cry to a book is the hardest thing for an author to do. And if you succeed with that, you have succeeded to write real literature in my opinion. And R.L Mathewson has certainly succeeded with that.
This is the 7th book in the series about the Bradford family. After 6 books, I know what to expect and I was not disappointed. We meet Duncan who haven't been a big character in the other books. But he is an original Bradford trough and trough with the food obsession and everything. Then we met Necie, who is a queen in both cooking and baking. I would have thought the relationship between Duncan and Necie would start off from the beginning with his food obsession and her skills with food. But Necie is one unlucky person who keeps hurting herself or Duncan so he "hates" her and tries to avoid her at all costs. And the whole thing is just hilarious. Hilarious!
There is not one book in this series who have gotten a lower score than 4 by me and this one must be one of my favorites. It is just that good. It is funny and relatable and it just makes me happy. Exactly what I wanted when I picked it up.