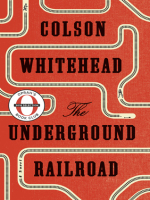 | GOODREADS | AMAZON | MY RATING: ♥ ♥|
Goodreads synopsis: Cora is a slave on a cotton plantation in Georgia. Life is hellish for all the slaves but especially bad for Cora; an outcast even among her fellow Africans, she is coming into womanhood – where even greater pain awaits. When Caesar, a recent arrival from Virginia, tells her about the Underground Railroad, they decide to take a terrifying risk and escape. Matters do not go as planned and, though they manage to find a station and head north, they are being hunted.
In Whitehead's ingenious conception, the Underground Railroad is no mere metaphor – engineers and conductors operate a secret network of tracks and tunnels beneath the Southern soil. Cora and Caesar's first stop is South Carolina, in a city that initially seems like a haven – but the city's placid surface masks an insidious scheme designed for its black denizens. Even worse: Ridgeway, the relentless slave catcher, is close on their heels. Forced to flee again, Cora embarks on a harrowing flight, state by state, seeking true freedom.

My thoughts: I'm sad that I didn't like this more. Maybe I had too high hopes for it but I thought it would move me more than it did. Since Whitehead won a Pulitzer prize for this one there are obvious people who think this is literature art with some beautiful sentence, genius structure and intriguing story. However, it did not work for me and my biggest problem with the book is that it is written in this type of macro view, the chapters are jumbled and there is a big historical "fault" in the book. If the chapters were in a "correct" timeline order (except Mabel's chapter) it would not have been too much jumping back and forth for me. I hate broken structure and time jumping like that when it isn't done with smooth finesse.
So, let's start with the historical "fault". I read this book as an historical fiction because that is how it was presented to me. Now however I wish someone would have told me that it is more of an allegory. Then I would probably not have irritated over the fact that in this book the underground railroad is an actual railroad underground with train and everything. I didn't think I was so bad on American history so I had to dedicate some time to google and find out what was true. No there was no real underground railroad as I thought. And this irritated me boundlessly.
The next thing is that I felt the book somewhat unemotional, distant, meek and cold. No real thoughts or feelings. Nothing that really moved me. Maybe it is me who are to jaded and cold for a book like this, or maybe I can't relate on the same level since I'm not American or black and my history, family's history and my country's history is a lot different. If it would have been written from first person perspective, so that me as a reader would get some thoughts and feelings and not this cold storytelling, I would find it a lot stronger and more relatable. Because feelings I can relate to.
It is still an uncomfortable read with a terrible story and it do make you think. So, Whitehead have done something right. The book is not a graphic read and even though I felt somewhat detached, I think Whiteheads goal was to start some thoughts and of all the discussions I have found on the internet, he has certainly succeeded.