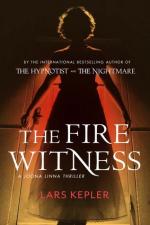 | GOODREADS | AMAZON | MY RATING: ♥ ♥ ♥ ♥|
Goodreads synopsis: Detective Inspector Joona Linna, under internal review by the National Police for an alleged infraction, is on leave to solve some troubling personal business when he is called in to "observe" the investigation of a gruesome and strange murder at Birgittagarden, a youth home for wayward teenage girls. But it's not long before Linna is drawn deeply into the intricate, disturbing case. Intriguing, astonishing, and with all of the suspense that first captured audiences in The Hypnotist, The Fire Witness is Lars Kepler at his most psychologically complex and thrilling.

My thoughts: The third book about the Swedish/Finish Cop Joona Linna. He is a ruff character with an immensely good moral compass and somewhat of an enigma. But in this book, you finally are starting to get some answers to who Linna really is and why he is and do as he does. However, you do sit in the end of the book, with a ton of questions but there are more books in the series so I'm pretty sure I will get my answers someday. The book do not end on a cliffhanger however, for those who are like me and don't like that.
The books story is just great. Joona Linna is under internal review due to some stuff that happened in the second book. But since he is that good guy that he is, he breaks the rules to save a kid after getting called in to "observe" a crime scene at a youth home, where a young girl and the homes nightwatchman has been killed, and another girl is missing. Not only that but he has some personal issues to resolve and it makes the suspense a lot more intense. And not only that. A psychic comes in and stir the pot even more. And I just say, wow!
Lars Kepler is really not a person but an pseudonym for the married couple Alexander Ahndoril and Alexandra Coelho Ahndoril. Yeah I think they did the right thing with one name since theirs are so alike. I love their way of writing and how they succeed to include the readers in the story in a way I don't feel many Swedish authors are able to do. Scandinavian litterateur is not one of my favorites but I try to broaden my view to also close authors. Not just authors from the other side of the glob.
I do have to warn you that this series is not an standalone series and I do recommend that you start with the first book if you are interested. But it is total worth it.