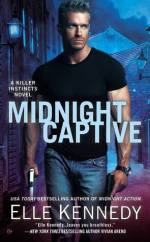 | GOODREADS | AMAZON | MY RATING: ♥ ♥ ♥ ♥ ♥ |
Goodreads synopsis: Former CIA agent Bailey Jones has spent months trying to forget her night of passion with mercenary Sean Reilly. An elite and methodical assassin, she has no room in her life for a reckless, rule-breaking Irishman, and she's vowed to steer clear of the tempting bad boy who lured her into his bed under false pretenses.
When Sean is implicated in the robbery of a Dublin bank, Bailey knows something isn't right. So what if she can't trust him? There's no way Sean would end up on the wrong side of the law. In fact, he's stuck in the middle of a dark and dirty conspiracy that could put his twin brother's life at risk with one wrong move. And Bailey's life too when she agrees to help.
As the stakes are raised and Bailey finds herself torn between two brothers, the fine line between danger and desire is crossed…and it'll take more than a killer instinct to survive

My thoughts: I thought this book was going to be a love triangle since that is the impression I got from the synopsis. So, to be honest, I have been avoiding this book because I really don't like that kind of drama. But since I have loved pretty much every book before this one, I couldn't ignore it any longer. I just needed to get it read and done with it so that I could read the next book in the series. I just hoped it was not as a big part of the book because it is always the same thing. One girl, two guys and it is just exhausting. Well I can happy announce that this is not one of those books. There is no real love triangle and it made me so happy. This book is the 6th book in the Killer Instinct series. It is a standalone series with small stuff that twines them together. But Kennedy does a great job with recapping that if you want, you can read in which order you like. But as always, I do recommend that you read it in order.
The series is awesome and there is no difference here with this book either. I totally love Bailey and Sean who are the main characters. They are like oil and water and have a history that is not that great. Which makes them fight all the time but it never gets boring or too much of it. Sean is a little rougher around the edges than the other guys in the books and are not from the same kind of military background. He is a former IRA soldier who, with his brother, has been running their own business for the last eight years.  Bailey is a little more mysterious and you do not know that much about her. The truth will come out eventually and it is somewhat cliche, just to warn you, but still a good story.  I love it. There is sparks and fireworks in every chapter they are together in and it is freaking awesome.
I loved the story. Somewhat unusual compared to the other books and much more personal. And even a little sad. But it was perfect for these two characters. I hope it is/comes a book for Sean's Twin brother, Oliver, to because, hot damn I need to read that one.
I do have to warn that this book ends one somewhat of a cliffhanger. Not a serious one but still.