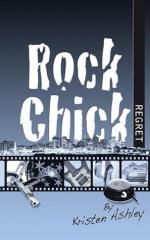 | GOODREADS | AMAZON | MY RATING: ♥ ♥ ♥ ♥ ♥ |
Goodreads synopsis: Sadie Townsend is known by all as The Ice Princess and she's worked hard to earn her reputation. Her father, a now-incarcerated Drug Lord, has kept her under his thumb her whole life and she's learned enough from living in his world to give everyone the cold shoulder. But one inebriated night, she shows the Real Sadie to the undercover agent she knows is investigating her father, the handsome Hector Chavez, and he knows he'll stop at nothing to have her.
Hector makes one (huge) mistake; he waits for Sadie to come to him. Tragedy strikes and Sadie's got a choice, she can retreat behind her Ice Fortress or she can embrace the Rock Chick/Hot Bunch World. Guided by Hector, the Rock Chicks, the Hot Bunch and her new gay roommates, Buddy and Ralphie, Sadie negotiates a life out from under her father's thumb, a life that includes poison, arson and learning how to make s'mores.

My thoughts: What a great book. What a great, great book. I don't even know how I should put my feelings for this book into words. This one is by far my favorite in the Rock Chick series. And even though I loved the other books, this one stands out on its own and completely touched me. It is by far more emotional and graphic than the other books have been, but not in a way that makes it hard for me to read. Yeah I do have triggers when it comes to sexual assault but as long as it not very graphic, I can distance myself to get through and focus on other things. In this book, it is not that graphic but it is the aftermath that can be heart wrenching.
Her we get to know Hector more. He is Eddies (book 2) brother and Hector have been a character that has gone in and out throughout the series due to that he is an DEA agent and often undercover. Well in this book he is done with DEA and has gone to work for Lee Nightingale instead. That's when Sadie (who's criminal father Hector brought down before quitting DEA) walks in and turns everyone's life upside down.
You get to meet some new, crazy lovable characters and the story is just heart wrenching and warming in the same time. I haven't cried so much as I have done to this book in a long, long time. Maybe because I can relate to some of it. The part with not having friends and that feeling of being completely, utterly alone and the feelings that all the good that is happening will be taking away from you, because you do not deserve better, is something I do understand.
I also love that Asley went a little different with how the story is build and the dynamic between Sadie and Hector. And that it is not as repeatedly as the books sometime can be. It is truly a work of art and to think I had to read six books to have this next in line is just…. Well, I didn't know what I had and if I knew, I would have read it a lot earlier.
Gosh I just rambling here. But this was the perfect book to end this month's reading spree on and I just want to recommend the Rock Chick series because it is just perfect.