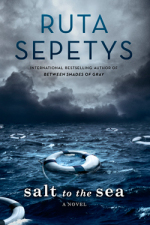 | GOODREADS | MY RATING: ♥ ♥ ♥ ♥ |
Goodreads synopsis: World War II is drawing to a close in East Prussia, and thousands of refugees are on a desperate trek toward freedom, almost all of them with something to hide. Among them are Joana, Emilia, and Florian, whose paths converge en route to the ship that promises salvation, the Wilhelm Gustloff. Forced by circumstance to unite, the three find their strength, courage, and trust in one another tested with each step closer toward safety.
Just when it seems freedom is within their grasp, tragedy strikes. Not country, nor culture, nor status matter as all ten thousand people aboard must fight for the same thing: survival.

My thoughts: Wilhelm Gustloffs shipwreck is the greatest in maritime history. Over 9000 people (that's almost 8000 more than Titanic) lost their lives and yet, almost nobody knows anything about it. I certainly didn't. My interest for war, historical fiction and that I didn't know anything about this disaster, was a big reason for me to choose to read this book.
In this book we are following four characters  who all seek peace and freedom from the war that are breaking there country and family's apart. Some of them, I like more than others but that I think was done with purpose and I understand it in the end. It is a great story, that do play on my emotions and now after i'm done, I do feel a little emotional drained.
It was a really thrilling read and as first book for me to read by Ruta Sepetys, I'm really pleasantly surprised. It started off quite slow and it is a slow burner through most of the book and I did lose interest there for a while, but I really wanted to know how it would end, so I picked it up again. The last chapters went past extremely fast and suddenly the book was over. I do not usually like books that are slow and then all the action is happening right before the book is ending. But it did work in this one. It is a really good book and that I lost focus has really nothing to do with the book itself, but with me who sometimes don't have the patience for slow burners.
It is a hard read, just have to warn you. There is some terrible human fates that are happening and even if the book is fiction, it is hard to deny that this and probably even worse have happened in real life. I understand why Sepetys won the Goodreads Choice Award 2016 for this book. It is that good.