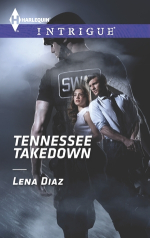 | GOODREADS | MY RATING: ♥ ♥|
Goodreads synopsis: A SWAT officer in small-town Tennessee will do anything to protect the innocent beauty whose life has been put on the line in Lena Diaz's Tennessee Takedown
It can't be a coincidence that in the past twenty-four hours, three different thugs have tried to kill or abduct Ashley Parrish. Sexy SWAT team leader Dillon Gray saved her, but now he wonders why someone would want to murder the beautiful accountant and why he finds her so infuriatingly attractive.
Then the FBI comes after Ashley for embezzlement, and Dillon knows he must protect her from a killer and prove she's being framed. Taking her on a hair-raising run through dangerous terrain barely fazes him. But wanting her from more than just one night scares the hell out of him.

My thoughts: I have read Lena Diaz other series (Deadly Games) and I LOVED it. There is four books in that series, filled with hot alpha males, strong women, incredible thrilling suspense and complicated character relationships. Three of the four books got a 5/5 score and the last one, number four got 4/5. That is how good that series was. Can you imagine my surprise that I found this first book in one of her other series, extremely lacking and disappointing?
I had expected the same level of writing skill and imagination but there was nothing. Nothing! My mind is blank! I feel nothing other than disappointment toward this book. It starts right in the middle of a shootout and then there is action throughout the whole book. There is never a break and I think that is maybe the point that rubs me the wrong way. Ashley is just to TSTL (too stupid to live) and I Dillon is just a used up character with no real depth. I could not connect with them and they more irritated me than anything else. The plot was quite interesting until the end, when it just got too much. I mean, come on, can you be that stupid? I do like the whole stolen identity plot even though it was predictable right from the start.
What really saved this book is the other characters. Chris, Chief Thornton, Donna and so on. I don't know if Diaz did it on purpose, but it did feel like she put more thought in those characters than what she did in her main ones. That is the only reason I feel I would like to read the second book in this series. The second book is about Chris and I do want to read more about him. *Wink*