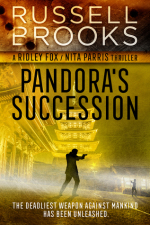 | GOODREADS | MY RATING: ♥ ♥ ♥ |
Goodreads synopsis: The deadliest weapon against mankind has been Unleashed.
CIA operative, Ridley Fox, never stopped hunting his fiancée's killers—a weapons consortium called The Arms Of Ares. When Fox follows a lead to one of their top-secret bioweapons facilities in Chechnya, he barely escapes alive. However, he's learned that Ares has weaponized a hyper-deadly microbe called Pandora. The trail leads Fox to Tokyo, where he teams up with an old flame and fellow operative, Nita Parris. Aside from Ares, they must contend with rogue agents who'll stop at nothing to get Pandora. This throws Fox and Parris into a deadly game of spy vs spy, as they must rely on each other to locate the microbe. For if it's unleashed, it could mean the end of humanity.

My thoughts: Russell Brooks contacted me and asked if I would like to read and review his book Pandora's Succession. The first book in the series about Ridley Fox and Nita Parris. Since thriller, mystery and suspense is my favorite genres I certainly had to take the chance. And I'm happy I did because this was, overall, a good book to read.
It is action filled from the first page to the last, with a complicated suspense plot and a intriguing story. It certainly made my mind work. Unfortunately I had some issues with the first 50% of the book, but I feel that Brooks saved it in the end.
At first I had a little trouble with the writing style. It felt kind of forced and I'm wondering if this is Brooks debut book. Because later on in the book the writing started to change. Not much but enough to give me the feeling of a more relaxed author with a more loose writing. Like Brooks had found his way and style and the book grew before me. OR, it is just me who got used to it. Anyhow, the second thing I had trouble with was connecting with the characters. It took me too long to really connect with either of them. And in the beginning there is a lot of characters and it kind of overwhelmed me. I had a little trouble keeping up with who is who. I'm thinking it is because of the writing and that the characters are a little cliché and similar. Those type of characters you find everywhere, without any real depth. Also this changed later on in the book and in the end I really connected with several and even got sad when some bad stuff happened. No tears tough.
Now after I'm done with the book, I really like Fox and Parris. The twists in the end surprised me and that it ended with a "bang" certainly gave me a satisfying feeling. There is no cliffhangers but it do end in a way that lets you as a reader know, that there is more to come from Fox and Parris. And I'm actually quite excited about that.