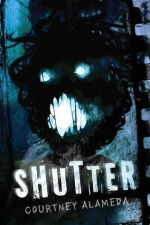 | GOODREADS | MY RATING: ♥|
Goodreads synopsis: Micheline Helsing is a tetrachromat—a girl who sees the auras of the undead in a prismatic spectrum. As one of the last descendants of the Van Helsing lineage, she has trained since childhood to destroy monsters both corporeal and spiritual: the corporeal undead go down by the bullet, the spiritual undead by the lens. With an analog SLR camera as her best weapon, Micheline exorcises ghosts by capturing their spiritual energy on film. She's aided by her crew: Oliver, a techno-whiz and the boy who developed her camera's technology; Jude, who can predict death; and Ryder, the boy Micheline has known and loved forever.
When a routine ghost hunt goes awry, Micheline and the boys are infected with a curse known as a soulchain. As the ghostly chains spread through their bodies, Micheline learns that if she doesn't exorcise her entity in seven days or less, she and her friends will die. Now pursued as a renegade agent by her monster-hunting father, Leonard Helsing, she must track and destroy an entity more powerful than anything she's faced before . . . or die trying.
Lock, stock, and lens, she's in for one hell of a week.

My thoughts: I'm so disappointed with this book. I don't think It's due too high hopes, since the author was new to me and I haven't heard or read any chatter about the book or author before. It was just something Book Depository recommended me since it was a similar to another book I bought a time back. Well it was a bad recommendation.
I have so many problems with this book that I don't even know where to start. Here's a list!
It is repetitive
Not enough description
No variety
Kind of cliché
To many questions
Lack of information
Slow and way to much teen angst.
My biggest problem is that there is not enough description of the characters itself or the history. The readers get thrown into the story with no knowledge or background history. Like for an example, all the unnatural creatures seems to be common knowledge. Does every person on the planet know that all you have seen in horror movies are true? That they really exist? Well apparently so. To a certain degree at least. But this is never 100% verified. And I missed proper information and descriptions of other things. Like characters! I should not have to read on page 220 that a main character actually has Aborigine heritages and that his skin is like a 5 shot Café au lait. That totally messes with my mental picture that I have tried to build up. And it is like this through the book. On everything! And some of the bad stuffs description is to easy that I can't form a picture fitting with the story. And I have a pretty good imagination, to tell you the truth!
How about the story itself? Well, our heroine, Micheline Helsing, descendant from the big Abraham Van Helsing, killer of all unnatural, is around seventeen years old (I counted but it is never mentioned) and goes to school to become a hunter. She however, takes water over her head when trying to prove to her father that she is capable of taking care of herself, her team and save innocent people. She has a tough relationship with her father and to be honest, that is the only thing that kept me reading. Because I wanted to know what would happen between her and her father.
Other have described this book as fast paced and edge of your seat, kind of book. I however did not find it like that at all.   And I think Alameda tried too hard, to push that horror feeling trough out the book which gave it the opposite effect. No I'm not happy. Not at all.