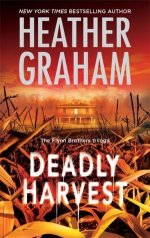 | GOODREADS | MY RATING: ♥ ♥|
Goodreads synopsis: When a young woman is found dead in a field, dressed up as a scarecrow with a slashed grin and a broken neck, the residents of Salem, Massachusetts, begin to fear that the infamous Harvest Man is more than just a rumor. But out-of-town cop Jeremy Flynn doesn't have time for ghost stories. He's in town on another investigation, looking for a friend's wife, who mysteriously vanished in a cemetery.
Complicating his efforts is local occult expert Rowenna Cavanaugh, who launches her own investigation, convinced that a horror from the past has crept into the present and is seducing women to their deaths. Jeremy uses logic and solid police work. Rowenna depends on intuition. But they both have the same goal: to stop the abductions and locate the missing women before Rowenna herself falls prey to the Harvest Man's dark seduction.

My thoughts: This is like the third book I have read by Heather Graham and still after I'm done with the book I have this feeling "thank you that it is finally over!". That is not a good feeling to be left with. Almost all her books have a average 4+ star ratings and it is weird that non of those I have read, has appealed to me, at all. And I don't really know why either. I think it is the writing that I can't connect with. I feel bored and already at 20% of the book I wanted to DNF it, but didn't since the story was a little interesting.
So, this book is about Jeremy Flynn. The second of the three brothers this series is about. He is in Salem, Massachusetts to help out a friend, who's wife is missing. Roweena, who are from Salem is trying to help out. Jeremy met her through his brothers wife down in New Orleans and for weeks he have tried to stay clear of her but his feelings  is to strong and in Salem there relationship takes a big turn. She tries to help him but there is a lot of stuff happening and on top of that, she has terrible dreams, she doesn't know what to do with. Jeremy is a down to earth, facts and logic kind of guy who do not believe in stuff he can't see. Together they need to work together to find Mary, the missing wife, and later on, find a killer.
Okay story, a little predictable and boring but still well described. Missed some hot and steamy feelings and scene between Jeremy and Roweena, which I think would have made the book better. And the rest are a little flat. Still I think it all is because of the writing and that it doesn't captures me.
I do not think I will read more by Graham for now, I just think that she maybe not is an author for me.