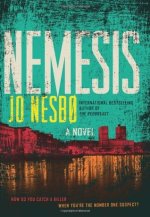 | GOODREADS | MY RATING: ♥ ♥ ♥|
Goodreads synopsis: How do you catch a killer when you're the number one suspect?
A man is caught on CCTV, shooting dead a cashier at a bank. Detective Harry Hole begins his investigation, but after dinner with an old flame wakes up with no memory of the past 12 hours. Then the girl is found dead in mysterious circumstances and he beings to receive threatening emails: is someone trying to frame him for her death?
As Harry fights to clear his name, the bank robberies continue with unparalleled savagery…

My thoughts: I'm not a big fan of this "someone is trying to frame someone, fight against the clock" type of plots. I find them long, irritating and exhausting. There is always some idiot who do not believe the truth even if it knocks you on the head and they are always so close to capture or kill the main character (who is getting framed) and if he gets captured, he is so wrongfully treated and when the truth comes out, they are all friends and happy family again. It is just so predictable and cliche. That's why, at first, I didn't want to read the book. I know that I usually don't like that kind of plots and I get more irritated, than enjoy it. But I had to! The book is fourth in a series that cannot be read as standalone's and I did want to know what would happen after that "cliffhanger" from the third book.
So in this book we get to follow when someone is trying to frame Harry for the murder of an old girlfriend to him. He had dinner with her the night before she was discovered dead and he can't remember what happened or how he got home. At the same time he works a case where a robber is active and is responsible for at least one death. Together with the wonder child Beate Lønn, they try to find the truth. And all Harry actually want to do, is working on that case he can't let go.
The book is dark and I feel that Harry is a little darker this time, than earlier books. But at the same time he is really trying to take control of his life and make things right. And it is hard for me not to feel for him, even though I do not like him that much. He is a hard character to like. I do love this new character Beate and hope that I will be meeting her again. There is a lot of male characters and we do need more women I think. Specially since Harry seems prefer working with female colleagues, than male ones.
Had some small issues with the writing this time to. Jo have written it with brakes in the stories that makes me a little confused if it is memories, dreams, does it happen real time or not happening at all.
I'm glad to be done with the book. It was not my favorite but also not the worst of those I have read.