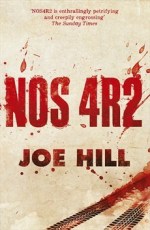 | GOODREADS | MY RATING: ♥ ♥ ♥ ♥ ♥|
Goodreads synopsis: NOS4R2 is a spine-tingling novel of supernatural suspense from master of horror Joe Hill, the New York Times bestselling author of Heart-Shaped Box and Horns.
Victoria McQueen has a secret gift for finding things: a misplaced bracelet, a missing photograph, answers to unanswerable questions. On her Raleigh Tuff Burner bike, she makes her way to a rickety covered bridge that, within moments, takes her wherever she needs to go, whether it's across Massachusetts or across the country.
Charles Talent Manx has a way with children. He likes to take them for rides in his 1938 Rolls-Royce Wraith with the NOS4R2 vanity plate. With his old car, he can slip right out of the everyday world, and onto the hidden roads that transport them to an astonishing – and terrifying – playground of amusements he calls "Christmasland."
Then, one day, Vic goes looking for trouble—and finds Manx. That was a lifetime ago. Now Vic, the only kid to ever escape Manx's unmitigated evil, is all grown up and desperate to forget. But Charlie Manx never stopped thinking about Victoria McQueen. He's on the road again and he's picked up a new passenger: Vic's own son.

My thoughts: I think this is one of the best books I have read so far this year. God damn this is some good Thriller/Horror literature that gives you the creeps in a way that you even dream about it at night. To be honest, I don't know if I'm supposed to laugh, cry or feel relieved that I'm done with it. There is like a 1000 emotions in this book, which took me by total surprise. Had not expected to be so emotionally captured by a thriller/horror like this and was unprepared for the mark it would leave me.
Everybody who know me, knows I like King, but often find him a bit long and protracted. This book is written by Stephen Kings son that goes by the name Joe Hill. I didn't know what to expect when going in since I have never read anything by Hill before. I have heard a lot about him though but never had the "courage" to read one of his books. I was afraid that he would be too much like his father. That is not necessary a bad thing, I do like Kings books, but if I wanted to read King, I would read King. I hoped for but was afraid, that Hill would not have developed his own writing style. A style that said that this is a Hill book, not a King and not son of King. I'm happy to say that even though there is similarities, Hill do have his own style and he is a little more "quick" in his wordings and his way of build sentences, which I really liked. It made it flow easy and draw you so deep in the book that real time and surroundings did not matter anymore. I don't know if I would be as attentive to the writing as I was if I didn't know about the family connections before starting to read the book, but I'm very pleased by the outcome and are now a lot more excited to read more of Hills books.
I was surprised how much emotions there is in this book. And how many and diverse characters there is. I feel in love with some, hated others, felt sorry for one and had empathy for many. I laughed, I cried and my heart hurt. I read until I thought my eyes would start to bleed and then I had trouble to pick the book up again. I wanted to know, but still I didn't. It is a good indicator of some good writing if I feel that broken and splitted like I did while reading this book. This was one long and emotional roller-coaster and the ending, even though not surprising, was the only one I could imagine for the story. And I loved it! I loved it all.
N0S4R2 is a work of incredible creativity and imagination. Hill has made a nightmare of the one holiday I love the most. I will probably never ever have a Christmas again where I will not think about this book. And I may never view Christmas songs the same way again. Hill has made wonderful work with describing all the characters, their own little quirks in a way that felt real. He have written destiny's, actions, choices and outcomes in a way that you started to feel like you have met these people. You know them. Or in a different time, different life, you would have been them.
What can I say? I loved it! The hype leading up to this books was true and real and now I'm joining it. The stuff people say about this book is true and you do not want to miss it. I feel sorry for them who did not like it. This is 700 pages of pure art and I will probably rave about this book to everyone who will listen (and probably those who won't), for a long time to come.