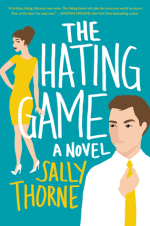 | GOODREADS | MY RATING: ♥ ♥ ♥ ♥ ♥|
Goodreads synopsis: Nemesis (n.)
1) An opponent or rival whom a person cannot best or overcome;
2) A person's undoing;
3) Joshua Templeman.
Lucy Hutton and Joshua Templeman hate each other. Not dislike. Not begrudgingly tolerate. Hate. And they have no problem displaying their feelings through a series of ritualistic passive aggressive maneuvers as they sit across from each other, executive assistants to co-CEOs of a publishing company. Lucy can't understand Joshua's joyless, uptight, meticulous approach to his job. Joshua is clearly baffled by Lucy's overly bright clothes, quirkiness, and Pollyanna attitude.
Now up for the same promotion, their battle of wills has come to a head and Lucy refuses to back down when their latest game could cost her her dream job…But the tension between Lucy and Joshua has also reached its boiling point, and Lucy is discovering that maybe she doesn't hate Joshua. And maybe, he doesn't hate her either. Or maybe this is just another game.

My thoughts: So I finally read this one. I threw myself on the hating game wagon to see what all the fuss is about. I do not often like hyped up books as much as everyone else. I'm always that pessimistic person who do not find them as perfect and wonderful as the hype states. I hate it and often avoid books just for that reason. I think the hype itself destroys it for me. And I have to be honest and say that I was very skeptical to this book and it took me some time to get into it and feel relaxed while reading. I had expected something else. Something quite angst filled and repetitive. Some juvenile actions and over the top romanticism. Well this was nothing like that and now I'm a little mad at myself for the reason that I have had this book on my kindle for like a year and kept swiping past it. Because this is goddamn one of the best books I have read this year. Yes it is that good.
Lucy and Joshua is rivals and yes the book do start out with the rival in focus, but I was pleasantly surprised about how grownup this book was. There is no big drama or angst filled actions or misunderstandings. There are two strong people who talks instead of assume and do not drive over, push or leave without giving each other a chance to explain or make right. It feels very true to my experience of real life and it made me fall in love with the characters, side characters, the plot and the book itself so hard that it hurts.
It is an easy, sweet, funny and adorable story about an office romance between two enemies who fall in love. It filled me with such happiness, joy and glowing feelings that I hardly can keep it contained. I love Lucys history and how positive she is trying to stay throughout it all and I love Joshuas history and how he really tries and how the fit together. They are like two puzzle pieces who have not realized that they fit and make the whole puzzle picture complete.
It is so cleverly written with a plot and characters who snares you in, lock you up and the outside world is forgotten. I would love to read this again. Like right now. That is how good it was.