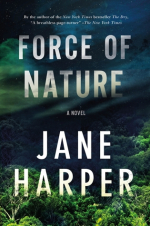 | GOODREADS | MY RATING: ♥ ♥ ♥|
Goodreads synopsis: Five women go on a hike. Only four return. Jane Harper, the New York Times bestselling author of The Dry, asks: How well do you really know the people you work with?
When five colleagues are forced to go on a corporate retreat in the wilderness, they reluctantly pick up their backpacks and start walking down the muddy path.
But one of the women doesn't come out of the woods. And each of her companions tells a slightly different story about what happened.
Federal Police Agent Aaron Falk has a keen interest in the whereabouts of the missing hiker. In an investigation that takes him deep into isolated forest, Falk discovers secrets lurking in the mountains, and a tangled web of personal and professional friendship, suspicion, and betrayal among the hikers. But did that lead to murder?

My thoughts: I was under the impression that this wasn't supposed to be a series. That the first book (The Dry) was going to be the only one. I don't know why I thought that since everything nowadays is either a trilogy going on five books, a long series or god first book with a number two flopper. I should have been smart enough to foresee that it would be written a second book. Still I was quite happy when I found out that a new one about Aaron Falk was to be released. I do however feel a little let down. I do not find this one as strong as the first and maybe I'm too critical but I don't feel it quite meet the expectations I had for it. It is not a flopper, just let me state that, but it is not a success either.
It was pretty good. I did like it but I did not love it. Nothing terrible but it was nothing groundbreaking either. A quick but not a deep read and I'm quite satisfied after all. Had trouble with connecting and Falk felt a little slow, grey and boring this time around. There was no real suspense but a good description of a reality so true in this day and age.
However Harper is a great author of the contemporary crime genre with her way of natural, soft flowing and easy rhythmic way of writing. I did enjoy it, but I don't feel a wow factor in it. I would probably read the next one to if there will be one, but that time I will try not to have high hopes for it. Even though I know that Harper has the ability to write something really good, based on the first book, I have certainly learned I can't expect the same each time.