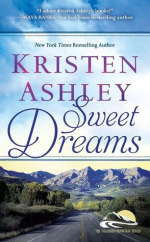 | GOODREADS | MY RATING: ♥ ♥ ♥ ♥ ♥|
Goodreads synopsis: She's ready for the ride of her life . . . 
Lauren Grahame is looking to reinvent herself. After leaving her cheating husband, Lauren moves to Carnal, Colorado, and gets a job as a waitress in a biker bar called Bubba's. It's a nothing job in a nowhere joint . . . until Tatum Jackson walks in. Lauren has never seen a man with such good looks, muscles, and attitude. But when he insults her, Lauren doesn't want anything to do with him. Too bad for Lauren he's also the bar's part owner and bartender.
When the rough-around-the-edges Tate meets the high-class Lauren, he thinks she won't fit in at Bubba's. Yet there's more to Lauren than meets the eye, and Tate soon sets his mind on claiming her as his own. Before long, the desire burning between them is heating up the cold mountain air. But when violence strikes the town, Tate must reveal a dark secret to Lauren-one that may put an end to their sweet dreams.

My thoughts: Overall I would like to describe the book as deep, complex characters, complicated, thrilling, butterflies in my stomach, knock me on my head, god damn perfect with that satisfying ending, horrible tearful chapters and beautiful closing. I can't enough English words to try explain what I'm feeling. But for me, this book, was pure perfection and exactly what I needed, wanted and sought.
KA is starting to be an addiction. I literally have to prevent myself from binge reading all her books. That is how good she is. And this is as usual a book who takes hold of you from the first page. It hooked me and never let go. I'm happy I started reading this only a day before the weekend because work at Friday was awful. I could not stop thinking about the book. I dreamed about it in the nights and on the days I only wanted to look myself in my home, abandon society, all my responsibilities, sleep and food. All I wanted was Lauren and Tatum.
It is a sweet story really. I love the characters and how diverse they were. Ashley is such a great author who writes these perfect characters that are deep, complicated and so easy to love or hate. I get invested in all her books and it is like I know them. I connected so hard with this one that when I ended the book, I could not stand starting a new romantic book right now. That is how huge impression this book, these characters and their story made on me. I can only say, read it! Hopefully you will to, love it.