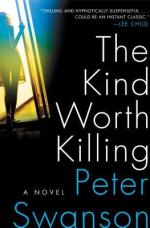 | GOODREADS | MY RATING: ♥ ♥ ♥ ♥ ♥|
Goodreads synopsis: On a night flight from London to Boston, Ted Severson meets the stunning and mysterious Lily Kintner. Sharing one too many martinis, the strangers begin to play a game of truth, revealing very intimate details about themselves. Ted talks about his marriage that's going stale and his wife Miranda, who he's sure is cheating on him. Ted and his wife were a mismatch from the start—he the rich businessman, she the artistic free spirit—a contrast that once inflamed their passion, but has now become a cliché.
But their game turns a little darker when Ted jokes that he could kill Miranda for what she's done. Lily, without missing a beat, says calmly, "I'd like to help." After all, some people are the kind worth killing, like a lying, stinking, cheating spouse. . . .
Back in Boston, Ted and Lily's twisted bond grows stronger as they begin to plot Miranda's demise. But there are a few things about Lily's past that she hasn't shared with Ted, namely her experience in the art and craft of murder, a journey that began in her very precocious youth.
Suddenly these co-conspirators are embroiled in a chilling game of cat-and-mouse, one they both cannot survive . . . with a shrewd and very determined detective on their tail.

My thoughts: Wow what a great book. Captivating, exciting, emotionally unstable, unpredictable and mayhem. It brought up the same feelings that YOU also did. Where you know you should not root for the killer/s but in the same time, in your heart, you kind of are. It totally messes with your mind and makes you question your own moral compass. And I LOVED IT. What a ride. Never read anything by Peter Swanson before and now after this, I certainly need to look into some of his other books.
The story is fascinating, the plot engrossing and that ending was excellent. This is one of those books that deserves to be discussed, broken down and discussed so more. There is four main characters and it gives the story several point of views which will be interpreted on so many different levels that it would be pure fun to debate it.
I loved the characters and the settings. The writing is high class and it truly was a great read.
"Truthfully, I don't think murder is necessarily as bad as people make it out to be. Everyone dies. What difference does it make if a few bad apples get pushed along a little sooner than God intended? And your wife, for example, seems like the kind worth killing."