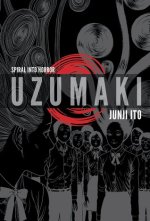 | GOODREADS | MY RATING: ♥ ♥ ♥|
Goodreads synopsis: Kurôzu-cho, a small fogbound town on the coast of Japan, is cursed. According to Shuichi Saito, the withdrawn boyfriend of teenager Kirie Goshima, their town is haunted not by a person or being but by a pattern: uzumaki, the spiral, the hypnotic secret shape of the world. It manifests itself in everything from seashells and whirlpools in water to the spiral marks on people's bodies, the insane obsessions of Shuichi's father and the voice from the cochlea in our inner ear. As the madness spreads, the inhabitants of Kurôzu-cho are pulled ever deeper into a whirlpool from which there is no return!

My thoughts: It was okay. Somewhat confusing and I do not know if it is due to my inexperience or what. But I often felt like I missed something. The settings kept switching so fast and I often thought that I had skipped pages. I also had some problem with getting used to reading it in reverse. But in entirety I did like it. It was horrific and the drawings was certainly disgusting. Didn't cause any nightmares but still it was great. Would certainly recommend it to those who read more graphic novels, comics than I do.