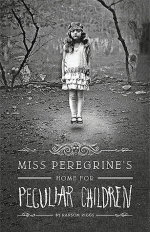 | GOODREADS | MY RATING: ♥ ♥ ♥ ♥|
Goodreads synopsis: A mysterious island. An abandoned orphanage. A strange collection of very curious photographs. It all waits to be discovered in Miss Peregrine's Home for Peculiar Children, an unforgettable novel that mixes fiction and photography in a thrilling reading experience. As our story opens, a horrific family tragedy sets sixteen-year-old Jacob journeying to a remote island off the coast of Wales, where he discovers the crumbling ruins of Miss Peregrine's Home for Peculiar Children. As Jacob explores its abandoned bedrooms and hallways, it becomes clear that the children were more than just peculiar. They may have been dangerous. They may have been quarantined on a deserted island for good reason. And somehow-impossible though it seems-they may still be alive. A spine-tingling fantasy illustrated with haunting vintage photography, Miss Peregrine's Home for Peculiar Children will delight adults, teens, and anyone who relishes an adventure in the shadows.

My thoughts: Before I saw the movie last year, I hadn't heard about this book or series. I do not know which rock I have been living under to miss it but hey, I did and so it is with that. When I was back home I did find the three books in the same bookstore and since they had a great deal that day I ended up buying all three. I don't like to buy complete series if I don't have read the first book yet. But I did and I'm so happy that I didn't dislike the first book. Because OH this was so fun. And I'm happy I didn't remember much from the movie because it was almost like reading it without knowing much about it.
I liked most of it. I liked the strange but interesting plot and characters. I did however not like Emma and some of the things she does, says and thinks. No spoilers. I loved the photographs, history and story Riggs have written around them and I did find the whole "time traveling" quite interesting. However there was some details that didn't make sense and if you thought about it you do wonder why they couldn't do "this" or why the rules was like "that" and how it worked when it should not to. Maybe i'm thinking to much on the details instead of the big picture, but it did annoy me.
Not a big fan of cliffhangers either and yes this book did end on a light cliffhanger. Fortunately I do own the other two books in the series. 😛