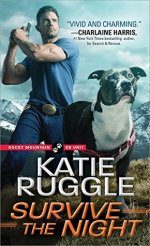 | GOODREADS | MY RATING: ♥|
Goodreads synopsis: He's always been a haven:
For the lost. The sick. The injured.
But when a hunted woman takes shelter in his arms, this gentle giant swears he'll do more than heal her battered spirit―he'll defend her with his life.
K9 Officer Otto Gunnersen always had a soft spot for anyone in need. As Monroe's very own Dr. Doolittle, he dedicates himself to rehabilitating the injured souls that cross his path―but for all his big heart, he's never been in love.
Until he meets Sarah Clifton's haunted eyes. Until he realizes he'll do anything to save her.
All Sarah wants is to escape a life caught between ambitious crime families, but there's no outrunning her past. Her power-mad brother would hunt her to the ends of the earth…but he'd never expect Sarah to fight back. With Otto and the whole of Monroe, Colorado by her side, Sarah's finally ready to face whatever comes her way.
It's time to take a stand.

My thoughts: I'm so disappointed. I had looked forward to this one and get to know Ottos story for so long. I even saved it to be read when I didn't work or had other obligations, just so I didn't have to stop reading. Unfortunately that made it even harder and I was so close to DNF it.
Otto was the most interesting, awkward, lovable and warm character among the guys in the K9 unit and I actually thought this was going to be a great ride. But it was not. It is predictable, excessive and has all the clichés you can imagine. Everything is just so overrated and used up. We are still chewing the same thing over and over again. It was boring and no action or interesting stuff. Just the same thing in different clothes.
Perhaps it would have been great if I was not an avid reader in the Romantic Suspense genre and have read "it all". But I have loved Ruggles books before and I know she can write a hot and surprising book with deep characters. This one was just not one of those and it makes me sad.
To be honest this whole series has been very up and down. But I will not yet give up. I love Ruggles way of writing and I know she can produce really good books. This was just not one of them in my opinion.