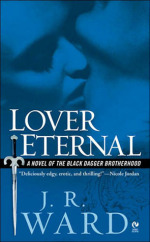 | GOODREADS | MY RATING: ♥ ♥ ♥|
Goodreads synopsis: In the shadows of the night in Caldwell, New York, there's a deadly turf war raging between vampires and their slayers. There exists a secret band of brothers like no other-six vampire warriors, defenders of their race. Possessed by a deadly beast, Rhage is the most dangerous of the Black Dagger Brotherhood.
Within the brotherhood, Rhage is the vampire with the strongest appetites. He's the best fighter, the quickest to act on his impulses, and the most voracious lover-for inside him burns a ferocious curse cast by the Scribe Virgin. Owned by this dark side, Rhage fears the time when his inner dragon is unleashed, making him a danger to everyone around him.
Mary Luce, a survivor of many hardships is unwittingly thrown into the vampire world and reliant on Rhage's protection. With a life-threatening curse of her own, Mary is not looking for love. She lost her faith in miracles years ago. But when Rhage's intense animal attraction turns into something more emotional, he knows that he must make Mary his alone. And while their enemies close in, Mary fights desperately to gain life eternal with the one she loves…

My thoughts: Warning for a small rant. I will try to keep it on the down low. It was a good book. A real page turner. But not as good as the first book and as I'm thinking now, not as good as the third book. Yes I had to jump right into the next one since it ended on a cliffhanger and I just had to know how it would end.
I never really fell for the characters. The love story is overused and quite predictable. When the side characters are more interesting than the main characters, there is clearly something not working for me. I didn't really like Mary and Rhage didn't do anything for me. I remember Rhage, from the first book, as a funny, sexy, devilish, and charming character. Now he is just whiny and feels sorry for himself. Yeah, yeah! You have a curse. Boohoo! Get over it and move on. You have had a couple of hundred years so you should have been miles ahead by now. But yeah, it was just so repetitive.
I really liked the plot however and how the lessers had a big part and how all the other characters just built up to the story of the third book. It was interesting and quite captivating. The ending came a little fast but it made it easy for me to just throw myself right into the next one.
I really like Wards writing and her version of Vampires which feels just so right. This one was not a favorite but I still like the series and hopes the third one will be even better.