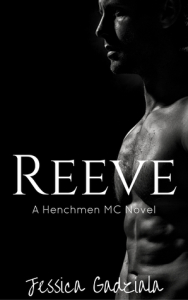 | GOODREADS | MY RATING: ♥ ♥ ♥ ♥|
Goodreads synopsis: Reeve
I had long since given up hope of the pursuit of genuine happiness. It wasn't possible after all the sh*t I had been through. I had my siblings, my club, a purpose in life. It was enough.
Until I came across her.
She represented everything that I knew I couldn't have – stability, a future, a way out of my past.
And, it seemed, the harder I tried to keep her at a distance, to protect her from my reality, she only got in deeper, only pulled me closer.
Then, one night, an old face popped up in Navesink Bank. And everything changed forever.
Rey
I liked my life. I liked the freedom and simplicity of it, even if it was, perhaps, a little lonely.
Then one night, there he was.
With the saddest eyes I had ever seen.
He represented everything my life didn't need – chaos, violence, uncertainty. But, at the same time, everything it was lacking – companionship, connection.
He tried to fight it, to keep up his guards, to keep me at arm's length.
But, well, fate had other plans.
That was the night everything changed.
Down an alley, facing down a new, yet familiar, big bad in Navesink Bank, forcing us together, making us confront the reality of what was happening between us.
Trapped together, waiting for the winds to blow over, he finally trusted me enough to let me in, to give us a shot, to invite me into his family.
That is, if all of us survived the upcoming storm…

My thoughts: Rey was a character I thought I wouldn't like. To hippy dippy, flower power, peace on earth, mumble jumble for my taste. But god damn she is hilarious. Down to earth, smart, funny and I see a lot of myself in her. And her total love for animals, self-reliance, her easygoing nature and somewhat different lifestyle is just wonderful. I love her and it's not often I love a female character more than the male one. But in this I did. And I feel almost a little sad that it wasn't longer because I would have loved to follow her more. She is just that good and Gadziala did a great work without making her over the top.
Overall the book is a typical Gadziala book with some hot scenes and complicated characters, history and an interesting future. It was nice to know Reeve's story. I loved his brother and Reeve he had a pretty large role in Cyrus book but you never got to know what his history really was. But everything makes total sense now. And all the side characters is just so fun to follow and get to know.
There was also a huge plot twist that will go on for at least a couple of books forward. Not a major cliffhanger yet, but I'm looking forward do see how that will evolve.