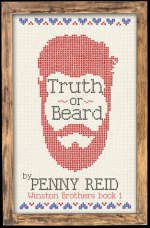 | GOODREADS | AMAZON | MY RATING: ♥ ♥ ♥ ♥|
Goodreads synopsis: Identical twins Beau and Duane Winston might share the same devastatingly handsome face, but where Beau is outgoing and sociable, Duane is broody and reserved. This is why Jessica James, recent college graduate and perpetual level-headed good girl, has been in naïve and unhealthy infatuation with Beau Winston for most of her life.
His friendly smiles make her tongue-tied and weak-kneed, and she's never been able to move beyond her childhood crush. Whereas Duane and Jessica have always been adversaries. She can't stand him, and she's pretty sure he can't stand the sight of her…
But after a case of mistaken identity, Jessica finds herself in a massive confusion kerfuffle. Jessica James has spent her whole life paralyzed by the fantasy of Beau and her assumptions of Duane's disdain; therefore she's unprepared for the reality that is Duane's insatiable interest, as well as his hot hands and hot mouth and hotter looks. Not helping Jessica's muddled mind and good girl sensibilities, Duane seems to have gotten himself in trouble with the local biker gang, the Iron Order.
Certainly, Beau's magic spell is broken. Yet when Jessica finds herself drawn to the man who was always her adversary, now more dangerous than ever, how much of her level-head heart is she willing to risk?
My thoughts: I had this book in my kindle for months. It had such good reviews that I felt that this book/series I needed to read. And when I finally got around to do it, I wasn't disappointed.
In this book you are introduced to the Winston brothers. There is 6 brothers and one sister. They are a tight family, who hadn't have the best childhood. They all have their own quirks and seem to be characters I will be falling in love with in the future. This book is mostly about Duane and Jessica. I love Duane. The first impression of him is so wrong and when you get to meet the real Duane, you fall hard. Jessica is a warm and really likable characters. I often has problems with female characters in this kind of books but not Jessica. She is a grown up, funny, strong woman with enough self perspective to stop her self when she sees she is being ridicules. I LOVE THAT!
The whole book was realistic and the story felt real. It was a really great book that many times made my chest retract and give me that anxiety/tingling feeling in my stomach. I was on pins and needles when I read and tried to get to the good parts where the truth was out and everything was as it should be. Unfortunately I was missing something, I felt it was a bit slow sometimes and that´s the reason to why I cant give it a full 5 stars.
It is an adorable book and i really looking forward to read more.