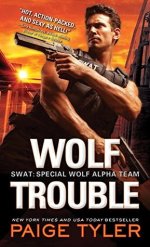 | GOODREADS | AMAZON | MY RATING: ♥ ♥ ♥ ♥|
Goodreads synopsis: He's in trouble with a capital T…
There's never been a female on the Dallas SWAT team and Senior Corporal Xander Riggs prefers it that way. The elite pack of alpha male wolfshifters is no place for a woman. But Khaki Blake is no ordinary woman.
When Khaki walks through the door attractive as hell and smelling like heaven, Xander doesn't know what the heck to do. Worse, she's put under his command and Xander's protective instincts go on high alert. When things start heating up both on and off the clock, it's almost impossible to keep their heads in the game and their hands off each other…

My thoughts: I´m still kind of uncertain when it comes to the genre fantasy/shapeshifters. It´s a little to much make believe for my taste but I still need to say that I really enjoy this series. How weird am I? And a hypocrite! Because I can read and enjoy books about worlds that is so far fetched that make these books look like reality, and still I have problem with them. And I blame the Twilight hysteria of 2008 and forward. I read some of the books before they even was a thought about make them into movies, loved them. When the films came out the hysteria around it wanted to make me gag and ever since I have had such problems with vampires, werewolfs and what not. But i´m trying. There is so many good books out there that I want to take part of.
I did like this book more than the first one. I think it is because the story is a little bit more exciting with the stalker and forbidden attraction and what not. But I would have liked to see/feel more from Khaki since she is a new wolf. Only three months in and I feel she took way to easy on the whole situation. At least one freak out would have made it a little more believable.
I do feel a larger connection with the characters this time. Most of them I have meet before in the first book and I really start to love some of the guys in the group and I can hardly wait to read there own books.
Overall an easy read. Doesn't make your heart beat to hard and fast and you don't loose any sleep over it but it is still a great read that I could recommend to those who would like this kind of books.