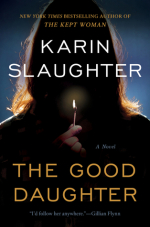 | GOODREADS | AMAZON | MY RATING: ♥ ♥ ♥ ♥|
Goodreads synopsis: Two girls are forced into the woods at gunpoint. One runs for her life. One is left behind…
Twenty-eight years ago, Charlotte and Samantha Quinn's happy small-town family life was torn apart by a terrifying attack on their family home. It left their mother dead. It left their father — Pikeville's notorious defense attorney — devastated. And it left the family fractured beyond repair, consumed by secrets from that terrible night.
Twenty-eight years later, and Charlie has followed in her father's footsteps to become a lawyer herself — the ideal good daughter. But when violence comes to Pikeville again — and a shocking tragedy leaves the whole town traumatized — Charlie is plunged into a nightmare. Not only is she the first witness on the scene, but it's a case that unleashes the terrible memories she's spent so long trying to suppress. Because the shocking truth about the crime that destroyed her family nearly thirty years ago won't stay buried forever…

My thoughts:
Extremely dark story and at first it kind off pissed me of. The reason is that I could not understand why, why on earth a person who have lived trough something terrible and gets bullied and hurt for it years after, still stays behind and live with those people around them for years and with people who caused it in the first place. I could not wrap my mind around it and it made the whole thing even worse. Especially when the truth started to come out.
But you certainly fast feel that this is a KS book. Because she has a twisted mind and a frighting ability to make you as an reader feel every emotion, experiences every event and you can't read fast enough to satisfy your self. And as always I need to read something more happy after because I always feel emotionally drained after one of her books. I dont know if that is a positive or a negative thing. I do love her books, but it makes me completely drained after.
A solid four is my rating for this one. I feel that it was a little more wordy than here usual work and the constant word battle between all the characters started to bother me in the end.
I really like the end though. I know from experience that Slaughters ends in books can be a little ruff and not always as satisfying for me as an reader but here it is just perfect. According to other reviews on Goodread this is supposed to be an series. Right now I feel happy with the end and do not feel need to follow the sisters in the future. But i'm not gonna close the door on it. Maybe I want to read it in the future. Who knows?