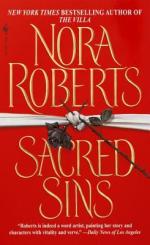 | GOODREADS | AMAZON | MY RATING: ♥ ♥ ♥ ♥|
Goodreads synopsis: 
In the lazy days of summer, a merciless heat wave is the biggest story in Washington, D.C. But the weather is knocked off the front pages when a young woman is found strangled to death. A note left behind reads Her sins are forgiven her.
Two more victims soon follow, and suddenly every headline is devoted to the killer the press has dubbed "the Priest." When the police ask top-notch psychiatrist Dr. Tess Court to help with their investigation, she comes up with a disturbing portrait of a twisted soul.
Detective Ben Paris doesn't give a damn about the killer's psyche. What he can't easily dismiss is Tess. Tall, dark, and good-looking, Ben has a legendary reputation with women, but the coolly elegant Tess doesn't react to him like other women he's known — and he finds the challenge enticing.
Now, as the two are thrown together in a perilous quest to stop a serial killer, the flame of white-hot passion flares. But someone also has his eyes on the beautiful blond doctor … and Ben can only pray that if the madman strikes, he'll be able to stop him before it's too late….

My thoughts: The book is from the late 80's and actually is older than me. But you do not notice the time difference which is great. It makes the book like one of those timeless classics and a book you really notice is written by Nora Roberts when you read it.
Roberts have an huge talent for characters development and it is no difference in this book. Even though it did not happen that much for the majority of the book, it was the progress of the story that just made it all great. Unfortunately the end of the book took away one star in my rating. This because it was to predicable and really no suspense and excitement. It was boring and felt more like Roberts just wanted to be done with the book so the end got rushed.