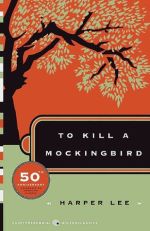 | GOODREADS | AMAZON | MY RATING: ♥ ♥ ♥ ♥|
Goodreads synopsis: The unforgettable novel of a childhood in a sleepy Southern town and the crisis of conscience that rocked it, To Kill A Mockingbird became both an instant bestseller and a critical success when it was first published in 1960. It went on to win the Pulitzer Prize in 1961 and was later made into an Academy Award-winning film, also a classic.
Compassionate, dramatic, and deeply moving, To Kill A Mockingbird takes readers to the roots of human behavior – to innocence and experience, kindness and cruelty, love and hatred, humor and pathos. Now with over 18 million copies in print and translated into forty languages, this regional story by a young Alabama woman claims universal appeal. Harper Lee always considered her book to be a simple love story. Today it is regarded as a masterpiece of American literature. 

My thoughts: This is an hard review to write. Trying not to step on any toes here. I dont really know how I should put my thoughts and feelings in understandably words. This is one of those classic books that "you just have to read before you die". Well I haven't read it before and the story intrigued me so why not? However I dont think it made the same impact on me like on the other millions of people. I have grown up with the learning that every human being, no mater skin color or sex, should not be treated different. We should treat all humans and living things, like for an example animals, such as we want our self to be treated by others. That is such an obvious thing for me that it is hard to think that this is not an reality all over the world. I have seen racism and I have friends who have experienced it. And quite frankly it is hard for me to imagine that people have been and still are, that mean, selfish and disgusting.
In that time period when this book was published (1960's) the story takes on an really important topic that, at the time was highly discussed and Martin Luther King was on the way up. I know the books was banned from several states in the US and that really shows how close minded some people are and I wish to believe that this book did some great things with lifting some of the problems. Today I think it's more used as an history novel and classic that shows us how it was and still are at some places. To not forget and to learn and understand and not do the same mistakes again. Do you understand what I mean?
To make a point with this review, the book is really great. Not an full five star rating from me because in this day and time, I do not perceives it as any greater than many other books about the similar theme I have read. I like the story, the characters and Lee has done a wonderful work with describing both the story line and surroundings so that me as an reader gets a feeling that I'm really there. I would totally recommend it to anyone who would listen and feel that no mater where in the world you are from, you should read it.