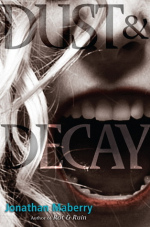 | GOODREADS | MY RATING: ♥ ♥ ♥ ♥|
Goodreads synopsis: Six months have passed since the terrifying battle with Charlie Pink-eye and the Motor City Hammer in the zombie-infested mountains of the Rot & Ruin. It's also six months since Benny Imura and Nix Riley saw something in the air that changed their lives. Now, after months of rigorous training with Benny's zombie-hunter brother Tom, Benny and Nix are ready to leave their home forever and search for a better future. Lilah the Lost Girl and Benny's best friend Lou Chong are going with them.
Sounds easy. Sounds wonderful. Except that everything that can go wrong does. Before they can even leave there is a shocking zombie attack in town. But as soon as they step into the Rot & Ruin they are pursued by the living dead, wild animals, insane murderers and the horrors of Gameland –where teenagers are forced to fight for their lives in the zombie pits. Worst of all… could the evil Charlie Pink-eye still be alive?
In the great Rot & Ruin everything wants to kill you. Everything…and not everyone in Benny's small band of travelers will make it out alive.

My thoughts: How can I explain why I only gave four stars to a book I more or less loved, without spoilers and trashing the book completely? It almost feels impossible but I will give it a try.
This is the second book about Benny Imura. The series is not an stand alone and I do recommend to read it in order. The first books name is Rot & Ruin and here you can read my review of it. I did love the first book. I have experience of Jonathan Maberry from his Joe Ledger series and this series is much easier than Ledgers. Probably because it is written more towards young and young adults. Ledger series is not. The book starts off about 8 months (or so) after the first book ended and it started off quite slow. Then it really did pick itself up on both speed and action. We get to follow Tom, Benny, Nix, Lilah and Chong when they venture out in the wasteland in the search of the flying jet. Then off course everything goes to shit, as expected, and then it is one action filled event after the other.
And it is here my problem starts. The book is action filled and quite exciting. But when you have read 400 pages of "the same thing" you are starting to get a little bored. It is bad decisions after bad decisions and events so big, horrific and hard that at some point, my mind just shuts off. I read the story but I did not feel it anymore. It is like seeing one of those really bad, cheep, slasher movies that you just cant take serious. Then it all changed again. And the ending really pissed me off. That is not how it was suppose to end. Come on! But now when I have had some time to think on it, I do see that it was the only possible end. And it only made a mystery even bigger, the mystery that is going through the Rot & Ruin. Because something is not right, and right now, no one know what or why.
So after taking everything in account, the book ended on a weak four star. I would have giving a five if not for the end. I know it was the only possible end, but still, I did not like it at all.
I do not read a lot of male authors. It is not a conscious choice, it is just because there are really few male authors who write in genres that I prefer to read. But god damn, Maberry is and probably always will be one of my favorites. I still have a lot of his books to read and I can hardly wait.