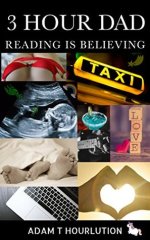 | GOODREADS | MY RATING: ♥ ♥ ♥ ♥|
Goodreads synopsis: What would you do if you were suddenly told you were going to be a mum or dad without any notice? How would you react? What thoughts would go through your head? You haven't prepared to be a parent, you've not made any arrangements and nobody in your family is aware.
Now imagine that not even the mum-to-be knew that she had been hiding a little person inside her tummy the entire time.
One day Adam, just your average, typical guy receives a call from his mother-in-law (to be !) summoning him to the hospital following his girlfriend being rushed in with suspected appendicitis only to discover that she is in fact having contractions and has been admitted to the labour ward.
This heart-warming and true story invites readers to step into Adam's shoes and experience what it is like to be a 3 Hour Dad.

My thoughts: Adam contacted me and offered to give me his book for free, against an honest review. I do not take on many authors and try to choose well between all the request I receive each day. And this is the first time I received a true story I wanted to read. And such a sweet story it is. It's short, funny and cute. Perfect book to brake of with between two more heavy books.
This nonfiction is about Adam and his most confusing three hours of his life and the days that follows. His girlfriend is giving birth at the local hospital but neither of them knew she was even pregnant.
I of course have seen, read and heard about those women who goes nine month and not realizing that they are pregnant until they are ready to give birth. For me it is incredible hard to understand how you can go nine months and not know. And it is really unbelievable to. And since it is so unbelievable, but apparently true, it is also one of my fears. Can you imagine the shock? Well I cannot and Adam does a fantastic job with this literary time travel, where he puts as an reader there, with him.
It is short and somewhat funny and contains a lot of cuteness. I know that the book is about Adam and his experience, but I do however feel that it is a little under developed. Or just not finished. You can't put a rating on a true story, but my rating is on the book and writing itself. I gave it a four because I really liked it but it still missed something and I think if he would work together with his girlfriend, have her side of the story at the end, would have completed it. And maybe some pictures. True nonfiction books need pictures. 🙂