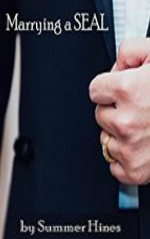 | GOODREADS | MY RATING: ♥ ♥ ♥ ♥|
Goodreads synopsis: Only a month out from a special election for State Senate, focused and ambitious Anna Kelly can't make her numbers budge. Until she meets Chris Webb, a laconic Navy SEAL with a crazy idea. Maybe he could help her out: a brief engagement, she wins the election, he ships out, and they divorce. Easy as apple pie.
Two people on very different courses, they don't expect to have much in common, but as circumstances contrive to keep them together, they realize they might be getting more than they bargained for.
Summer Hines delivers another story with all the best ingredients of a traditional romance, with sharp dialogue, fully-realized characters, real stakes, and–best of all–fiery chemistry between her whip-smart heroine and brooding SEAL.

My thoughts: The full title of the book is Marrying a SEAL, Marrying a stranger but felt it was to long, so just for this review post I have shortened it to Marrying a SEAL. I received this book from the author for free, against a honest review.
This is such a fun, quick and soft romantic book, perfect for this late summer nights when you do not want to strain your head with something heavy. Or this is one of those perfect books to read when you have a book hangover to get rid off. But be careful, because I loved it so much it even gave me a small hangover.
Anna is an ambitious, young woman who is running for state senate. Due to that she is a woman, young and according to a lot of people, inexperienced, the polls do not look so good. And with only one month left to the election is over she need to do something drastic. In walks Chris with his asinine idea that they should get married, pretend for a while and after he has shipped out, they can just get an divorce. Easy peasy, right? Well …. no. Not exactly.
I love Anna. She is such a great character and Hines has really done a great work with writing her so that I can connect. Had it a little harder to connect with Chris but I think that is because most of the book is written from Annas point of view. I do love Chris to and I love how slow burn and soft romantic this book really is. But I do miss some more depth and would have wished to see Anna and Christ together more than they where. I would have liked to read more about the growth of there relationship. Have them realize some stuff a little earlier, have some hot 18+, adult rated, chapters before some stuff in the end. And the ending was a little to quick and forced. Other than that, this is a wonderful book and I'm so happy that Hines took contact with me and gave me a chance to read it.